Accessories Compatibility List
Below you will find a listing of all devices that are compatible with D-Link Accessories. This compatibility list is based on the assumption you are using the latest firmware available from the tech support site.
It is highly recommended to upgrade your device with the latest firmware to take advantage of the complete list of compatible devices below.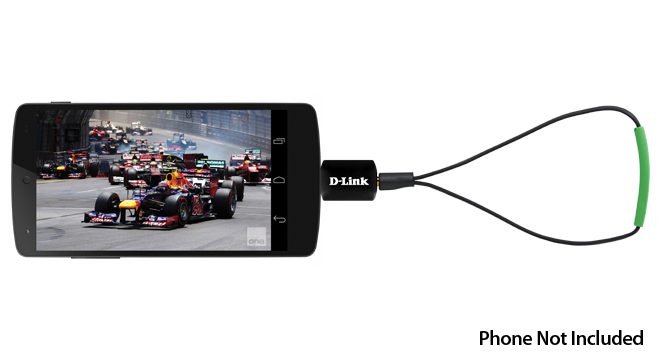 Portable Digital TV Receiver (DSM-T100)
The Portable Digital TV Receiver (DSM-T100) has been tested with the below Android devices (more devices will be added as they are tested, thus this list may not have all of the latest generation devices listed):
Fairphone
Google: Galaxy Nexus, Nexus 5, Nexus 6, Nexus 7, Nexus 10
HTC: One, One (M8) (Android 4.1.1 or later)
Samsung Galaxy: Note, Note II, Note 3, Note 4, Note Edge, S II, S III, S4, S5, Tab 3 8.0, Tab S 8.4
NOTE: The DSM-T100 requires an Android device with a 1 GHz or faster dual-core ARM CPU, USB host mode functionality and Android 4.0.3 ("Ice Cream Sandwich") or later. Playback of MPEG-4/H.264 video requires a processor with NEON support (e.g. Tegra3).